OCEAN: a collaboration with afrose fatima ahmed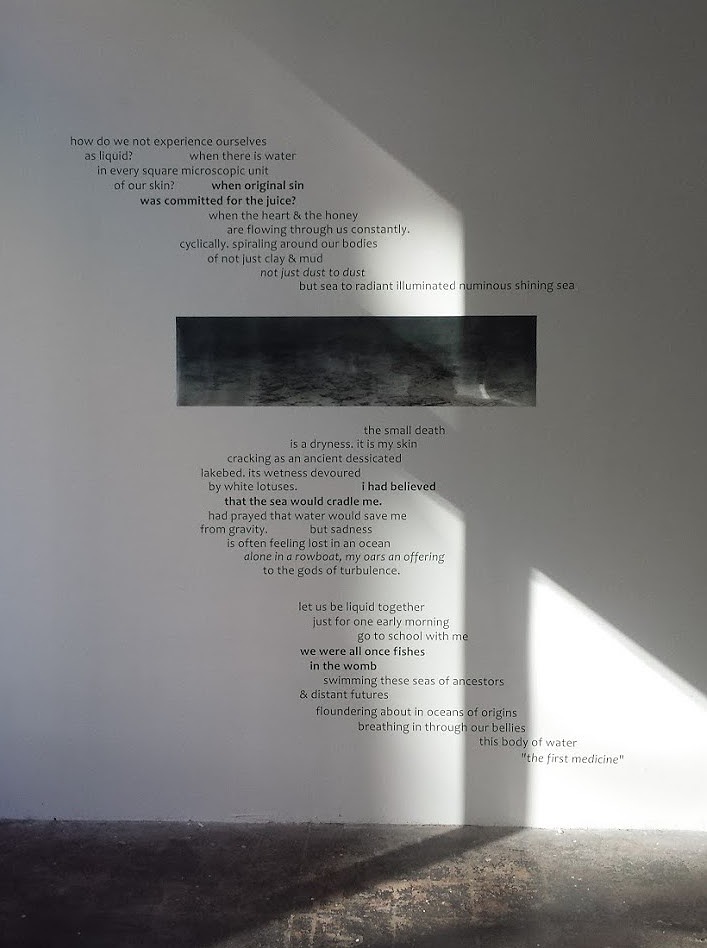 The ocean is a refuge for me - healing, enthralling and mesmerizing. For many, the ocean represents hope, escape and a passage to safety as they flee from war and genocide. And for some the ocean is their grave. I had been thinking about these dualities, and trying to imagine a way to represent them, when I encountered Afrose's poetry. I was blown away by how visual and sensual her writing is, and how she navigates duality. Ocean is a collaboration that emerged out of a conversation with her.
afrose fatima ahmed is a bespoke poet, a poetic tarot reader, and an embodied writing coach. She writes custom poetry on demand, in person on her typewriter, and by commission online. afrose offers phone readings from her deck of tarot poems"blood gold and honey" to provide counsel and clarity in times of need. She is published in various journals and has self-published four poetry chapbooks.
afrose is the daughter of Muslim immigrants from India. Her body and her art live in liminal spaces: polar US borderlands, the division between land and sea, the place where urban density drops off into rural solitude. afrose comes to poetry as just one avenue for creating experiences of beauty and communion for herself and other people. her writing emphasizes all the senses and acknowledges a world in which humans are suffering and experiencing bliss against wild landscapes that are simultaneously living and dying.
Support her work and receive poetic gifts at www.patreon.com/afrosefatimaahmed
www.instagram.com/afrosefatimaahmed
how do we not experience ourselves
as liquid? when there is water
in every square microscopic unit
of our skin? when original sin
was committed for the juice?
when the heart & the honey
are flowing through us constantly.
cyclically. spiraling around our bodies
of not just clay & mud
not just dust to dust
but sea to radiant illuminated numinous shining sea
the small death
is a dryness. it is my skin
cracking as an ancient dessicated
lakebed. its wetness devoured
by white lotuses. i had believed
that the sea would cradle me.
had prayed that water would save me
from gravity. but sadness
is often feeling lost in an ocean
alone in a rowboat, my oars an offering
to the gods of turbulence.
let us be liquid together
just for one early morning
go to school with me
we were all once fishes

in the womb
swimming these seas of ancestors
& distant futures
floundering about in oceans of origins
breathing in through our bellies
this body of water
"the first medicine"
from Body Of Water by afrose ahmed
Photos from the closing - a reading by afrose and the deinstallation ritual where the poem was removed word by word.